---
Welcome
to the
East Wing.
Here where the gentle morning sunshine warms the rooms..
a section is being refurbished and constructed.. especially for parents who have lost a baby through miscarriage or infant death; also I know that many who have gone through the trauma of an abortion suffer greatly and mourn their baby, here you are welcome. I hope all who visit,whatever caused your loss, find comfort and peace.
But also it is intended as an information resource,for everyone!
To find help for what to say to a friend, acqaintance,workmate family member who has lost a baby through miscarriage or other circumstances...
I started this site primarily as resource re miscarriage as that is the kind of loss i have suffered -(having lost a baby through miscarriage in Sept 1999) but everyone is welcome here and there is support and comfort and relevant information for everyone.
---
Please note. In 2001 I returned to study (a full university study load as well as family life - after 16 years in the workforce it was a shock!)
It is now 2005. I have not updated this site for a long time, but I am thrilled to know it is still visited by many.
Well I have now finished study, graduated from uni, been through a very painful separation and reconciliation with my partner and finally.....have acheived what I set out to do; I now work part time as a counsellor - helping others to deal with difficult painful times in their lives.
They say there is always some good to come from everything and my little Sweetpea led me to this journey.
I will be starting to tidy up this site now as I get time- replacing graphics and checking links etc.Thank you to everyone who has visited this site - I may have been absent as a 'webmaster' but I have always been here in spirit. I am also starting my own small business, based on my love of art. I still remember how incredibly important it was, and is, to me to memoralise my baby. Although I no longer feel pain over the loss, it is still a sad memory and I will never forget that child. A special frame sits on the mantelpiece with the family photos - it depicts an angelbaby and a personal message.
These personal thoughts and feelings led me to decide to offer an angel-baby memorials service.

I offer lovely gentle, sensitively created charcoal sketches of babies lost through stillbirth. These are prepared with great love and care and are available in a choice of colours.
For babies lost through miscarriage there are other ways to remember that special one - angel baby mugs, personalised with name and date or special cards which can be kept in an album or framed.
If you would like to see what I offer please have a look on the 'Memorials' page on my new website.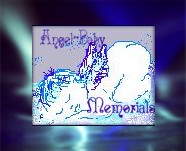 May everyone find peace and healing. I will answer emails for help and do what I can
((((((Hugs)))))) Anji Email

---
Read my speech about the need for miscarriage after care
---
---
If you cant find what you need here there are many sites listed on the Links Library page. But take some time to look around... email me if you need help...Try also the email pen pals page
and the email support group...
---
Special Circumstances:
I hope there is help here for everyone
Memorials,Club,Community,Candles,What HelpsorHurts
however there are many things i have no experience of
and there is extra information for you as listed below
Diagnosed 'Incompatible with life'

---
---
'Floor plan' of the East Wing;

(You are currently in Reception.)
---
---
The Eastwing Annex
Sweetpea's Rooms!

---
---

If you would like to link to Eastwing and display its banner
please right click on the picture and save to your own computer ,thanks ;-)
the link is "http://angiealexander.tripod.com/eastwing.html"
any problems just email me!


---

---

---

Guestbook


And finally my guestbook,please take a few moments to add something, i love to know youve been here!
Sign My Guestbook View My Guestbook